Olive Oil For Massage
---
The next time you want to give yourself a treat try the olive oil for massage treatment.
Massage is so wonderful for our health so why don't we spend more time treating ourselves?
Massage is known to increase circulation and give us that extra glow. People spend thousands of dollars for an olive oil treatments at luxury spas.
The real secret is that you don't have to spend so much money to give yourself the same spa-like treatment. Home-made olive oil massage is a simple way to give you a real treat in a bath.
How To Treat Yourself
To a Wonderful Olive Oil Massage
Use olive oil for massage for your body and your feet. There are many massage formulas or you can create your own remedy. Here are a few recommendations as a start...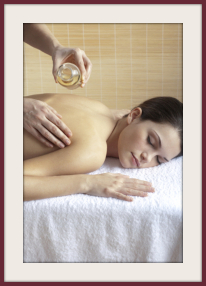 Olive oil massage for the body -- Mix in a small bowl, 8 ounces of extra-virgin olive oil with a quarter ounce of mint oil. Just rub the mixture all over your body.
Double the effect by lighting some candles with your favorite scent in your tub and take some time out. Give yourself a real spa treatment.
Olive oil massage for your feet -- I have experienced cracked heals at the bottom of my feet for years until I discovered this therapy.
It's easy to give yourself a wonderful, relaxing foot massage without spending too much at a salon. You can do it right at home at your own leisure.
Be sure to wash your feet first before giving yourself the foot massage.
Mix 2 teaspoons of extra-virgin olive oil with 1 drop of chamomile essential oil. Rub the mixture all over your feet for several minutes.
Be sure to put on your socks after the massage to absorb the excess oil. It's best to leave the socks on overnight.
Mix Olive Oil with Essential Oils To Increase The effect
There are so many combination using olive oil as a base for a wonderful massage.
You can add other essential oils such as rosemary oil for an added health benefit and relaxation or something like mint oil can be used for an added stimulation of muscles.