Flavored Olive Oil
Get creative and learn to cook with
herb infused olive oil
---
Flavored olive oil or Herb infused olive oils are not only healthy for you but they also give you that extra spice and a kick. They are now very popular and can be found in any supermarkets.
You can use any herbs and spices and citrus fruits to make infused olive oils. Every day herbs like rosemary, oregano, jalapeno and sage are also very healing for your body.
Amazing Therapeutic Effect
They have a therapeutic effect that will give you some good health benefits.
For instance,
Garlic is known as one of ancient healing foods. It has anti-inflammation properties but also great for diuretic and to treat internal parasites.
Parsley has been known to be a great internal cleanser for the digestive system.
Citrus fruits like lemon and oranges can give you a real boost. They can be used to sprinkle on as salad dressing or on pasta to give that special flavor.
In terms of healing properties, lemon and other citrus fruits are versatile as well. They are used not only for cooking but also for cleaning and beauty products.
Rosemary has many wonderful health-promoting and health-healing properties, including depression, headaches and hemorrhoids. Rosemary is also known to help lower blood pressure.
Oregano has anti-inflammatory and anti-septic properties that helps to kill bacteria and other germs. It also helps in the fight again infection from cold and flu.
Thyme also has antiseptic properties, which helps to relieve symptoms of cough as well as intestinal disease.
Learn about making flavored olive oil from home.
Our Favorite Flavored Olive Oils
Here are some of our favorite infused olive oils...
---
Black Truffle Infused Extra-Virgin Olive Oil from Spain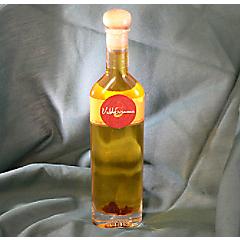 Natural Wild Black
Truffle in Bottle
This black truffle oil is an extraordinary product--the finest of extra virgin olive oil infused with the pungency of an authentic black truffle from Spain.
---
Basil Flavored Extra-Virgin Olive Oil From Italy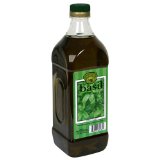 Auguri Basil Flavored
Extra Virgin Olive Oil
in Bottle
What Customers Had To Say:
"This basil flavored extra virgin olive oil is great with salad or for cooking.....It is very flavorful and adds lots of dimension to any salad you put it on."
"What a deal!...delicious olive oil with a wonderful basil taste."
---
Boletus Mushroom Infused Olive Oil from Spain
Wild Mushroom
Infused Olive Oil
from Asturias
Made with aromatic wild Boletus Edulis mushroom. This bottle contains several big slices of mushroom, which continue to infuse the olive oil.
The olive oil used here is not extra virgin, which would have too much flavor.
---
Orange Flavored Extra-Virgin Olive Oil From Italy
Auguri Orange Flavored
Extra Virgin
Olive Oil
What A Customer Had To Say:
"Have now tried all Auguri oils (Basil, Lemon & Orange) and they are wonderful. All these oils are good to saute, marinate or drizzle on fish, chicken, beef or salads..."
---
La Truffiere Infused Oils From Italy
La Truffiere Infused Oils
Flavored olive oils for those who crave the aromas and flavors of fresh citrus, mushrooms and traditional herbs in their Italian extra-virgin olive oil...
---