Olive Oil For Wrinkles
Did you know that olive oil can be used to smooth out and help minimize wrinkles?
---
Olive oil for wrinkles? It's true...Olive oil works wonders in helping minimize wrinkles!
We've all seen in the health and beauty stores and drug stores the beautifully packaged wrinkle-reducing creams that supposedly help clear away wrinkles. Do they actually work?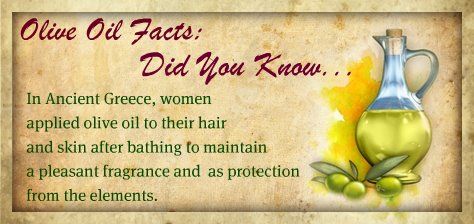 I've tried them myself. They cost a lot and you hope for the best but I've yet to see much result for those products.
Because olive oil penetrates into skin very well, it is great for smoothing the skin and helping to soften dry skin by locking in your natural moisture. It also costs a whole lot less. It's also good for you, health-wise.
There are no toxic ingredients or ingredients that are in beauty products that you cannot pronounce.
Health Benefits Of Olive Oil
Because olive oil is rich in antioxidants, including vitamins A and E, which are the key ingredients. It has the natural ability to stimulate cells and therefore, helps to enhance firmer and healthier skin.
Other health benefits of olive oil is that it helps to lower blood pressure, heart disease and decrease growth of some cancers such as breast cancer. There have been plenty of medical evidence that provide the effectiveness of olive oil in providing health benefits in many ways.
Used externally, olive oil is just as effective in treating skincare problems, which also include helping to reverse the external signs of aging such as wrinkles.
How To Use...
There are many ways you can use olive oil for your skin to smooth out wrinkles.
Try applying the EVOO straight out of the bottle for under eyes, eyelid areas and all over your face. You can use it during the day or even as night moisturizer.
Or mix one tablespoon of EVOO with several drops of lemon juice and apply the mixture all over the face except the eye areas and keep on overnight. That should do the trick! Very simple...
You can use it for bathing. Try adding about one quarter of a cup of extra-virgin olive oil with one teaspoon of lavender oil in a bath. Your skin will feel visibly smoother and your wrinkles visibly reduce over time.
Whatever the method, you may be very happy to see some clear VISIBLE results in a few months. Your skin will feel much healthier and smoother too.