Olive Oil Soaps Favorites
Choose olive oil bar soap or liquid olive oil soap
---
Olive oil soaps are just fantastic for all skin-types, including sensitive skin.
Sure, you can make soap at home and there are plenty of recipes out there. But who's got the time?
And there are many wonderful commercially-made soaps and liquid soaps that there is really no need to make them at home.
Once you give it a try, you'll be using them for life.
---
Olivella Olive Oil Soap
This soap is wonderful for anyone who is ultra-sensitive to perfumes or allergic to strong-smelling regular soap. It will also help make your skin smoother and a lot less dry.
Note that this soap maybe fragrance-free but it does have a particular scent that comes from natural olive oil ingredients.
Made from:
100% Virgin Olive Oil from Italy
Fragrance-free
Sweet, slightly tangy flavor
100% organic
---
Hand-Made 100% Extra Virgin Olive Oil Soap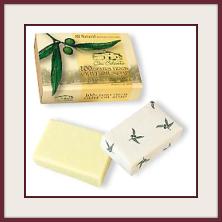 Available from Tienda
This soap has only natural ingredients.
Made from:
Olive oil
Spring water
Natural essential oils of rosemary, pine and lavender
Sea salt
Lemon juice
Can't get more natural than that.
---
The Original Hand-Made Savon de Marseille Olive Oil Soap
You'll love this original authentic HAND-MADE French olive oil. It's completely natural. It can be used on your face, body, hands and even laundry.
Product Features:
All natural ingredients
Pure vegetable oils
Incredibly gentle and highly moisturizing
Made in France
---
Savon de Marseille-Lavender Olive Oil Soap
This French soap is imported directly from Marseille, France. It's still hand-made by the last remaining traditional soap maker in Marseille by Savonnerie Le Sérail
Made from:
80% palm and copra oils base
No sodium laureth or sodium lauryl
100% biodegradable
Pure, gentle and naturally moisturizing
You'll love this original authentic HAND-MADE French olive oil soap.
---
Papoutsanis Pure Greek Olive Oil Soap
This pure Greek Olive Oil Soap is made according to centuries old Greek traditions. Papoutsanis has been crafting soaps for nearly 2 centuries, and their experience shows. This is simply one of the best and gentlest ways to wash your skin.
If you've been plagued by dry skin, you'll absolutely love this product.
Also great for those skin types that are prone to allergies. Although this product does have a fragrance it it not aggravating on your allergies.
Product Features:
Product of Greece
Authentic traditional premium quality
Pure and simple ingredients, UNSCENTED
Great for your skin
Super value
---
Liquid Olive Oil Soap
This product is just fantastic for those that have ultra-dry, sensitive skin. This soap is a real deal. The scent maybe somewhat strong for some but not overpowering.
It cleans very well. It also has antibacterial and anti-fungal effects. You can use it for your hands, face, body and even your hair!
Product Features:
Made with 100% Virgin Olive
No animal fats
No harsh man-made chemicals
No dyes
Or color additives
---
Olivella Virgin Olive Oil Face and Body Liquid Soap
Product Features:
Created for facial and body care, rich in vitamins A, E, minerals and antioxidants.
Has a light fresh herbal green scent, characteristic of the Mediterranean.
Made From Italian Virgin Olive Oil. Hypoallergenic. Antibacterial. Antifungal. Contains No Preservatives.
Neutral Does Not Contain Free Alkalis.
No Artificial Colouring.
---
Additional Recommended Products From Amazon